Home | Locations | Maui Vacation Condo | Catering | Business Accounts | About SDC | Gift Certificates | Employment | SDC Photo Album |


The Garden Party Catering offers full service catering for parties and special occasions. Whether your desire is a simply planned menu or cuisine with an elegant flair, our goal is to create a meal which will be the highlight of your party!
The Garden Party offers entrees, cold buffets, hors D'oeuvres, desserts and all beverages for any size gathering. Meet with the staff to plan your wedding, class reunion, club event, meeting or intimate gathering. The Garden Party specializes in barbequed beef, chicken and seafood, cooked to perfection by their experienced staff on our portable 8-foot barbeque.
The Garden Party can deliver everything to any location of your event in their new 24-foot catering trailer. Everything is prepared fresh and homemade complete with beverages and desserts if desired. We will ensure that your event is a success and your guests leave extremely satisfied.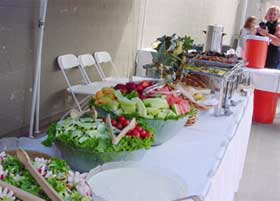 The Garden Party can plan catering services to meet your budget while creating an experience you won't forget. Through the Siskiyou Development convenience stores, the Garden Party can deliver your choice of champagne, liquor, beer and wine to complete your party needs, or provide a full bar with skilled bartenders — Whatever you like — We'll CATER to your needs!
Contact Roger Ward at 530-938-3468 at the Siskiyou Development Business Office to plan all your catering needs.
Click here for some of the mouth-watering items we can prepare!